Over $87,000 Donated
Over $87,000 Donated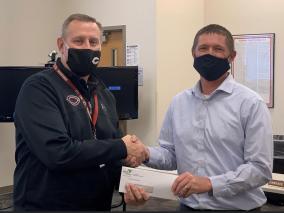 Bank of the Valley Donates Over $87,000 Through School Pride Card Program
During the months of April and May, Bank of the Valley presented their eight partner schools with checks for funds raised through their popular School Pride Card Program. This was the Bank's fifth time presenting funds since the School Pride Card Program was launched in 2016. To-date, over $87,000 has been donated to all schools.
"We have been very happy with the success of the School Pride Card program and the support we have seen from both customers and our partner schools," says Bank of the Valley's Community President in Humphrey, Tim Howard. "This program has done well to provide an additional avenue for our local schools to generate funds, and we are happy to provide it - as the schools, the students, and their families do so much for our community."
The Bank of the Valley School Pride Card is a Visa® Check Card that is custom designed with the logos of the Bank's partnering schools. Those include Aquinas Catholic Schools, Columbus Public Schools, David City Public Schools, East Butler Public Schools, Humphrey Public Schools, Humphrey St. Francis, Lakeview Community Schools, Scotus Central Catholic, and Schuyler Community Schools. Each Partner School has a design customized to their school, and the cards can be used anywhere, anytime just like a regular debit card.
New or current customers are able to choose their school pride card and upon doing so, Bank of the Valley will make a donation to the school whose design the customer chose.
Bank of the Valley is a Member FDIC, Equal Housing Lender