Back to Banking in Schools
Back to Banking in Schools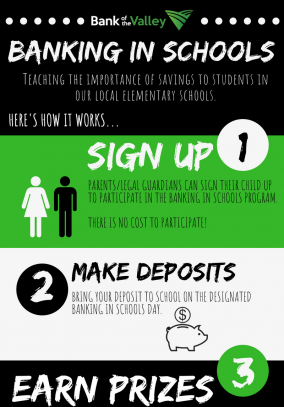 BANK OF THE VALLEY—BANKING IN SCHOOLS PROGRAM
WHAT IT IS
A financial literacy program who's purpose is to teach students at the elementary grade level the importance of savings.
HOW IT WORKS
Participating students take part in "Banking in Schools" days. Twice monthly (or as schedules allow), a Bank of the Valley "Branch" is set up at the partner school in the morning before class starts. Students signed up for the program bring their deposits to the school branch and deposit into the Bank of the Valley Account. Prizes are given for reaching savings benchmarks of certain dollar amounts and/or number of deposits made.
6th grade students are also given the opportunity to apply for a job as a Bank of the Valley student Bank teller. These students are given first-hand experience as Bank Tellers by assisting participants in completing the process of making a deposit, all under the supervision of Bank of the Valley Employees.
Once a student moves on to Junior High or leaves their elementary school, they are given the option to transition their Banking in Schools funds over to their own individual Bank of the Valley Savings Account. Their other option is to receive a check for all the funds saved throughout their time in the Banking in Schools Program.
THE IMPACT
Bank of the Valley has been partnering with local elementary schools since 2013 to offer the Banking in Schools Program. We currently have 8 partner schools in this program.
Our Elementary Schools have an average of 27 students participate in the program each year, saving a combined total of over $2,600 per school!